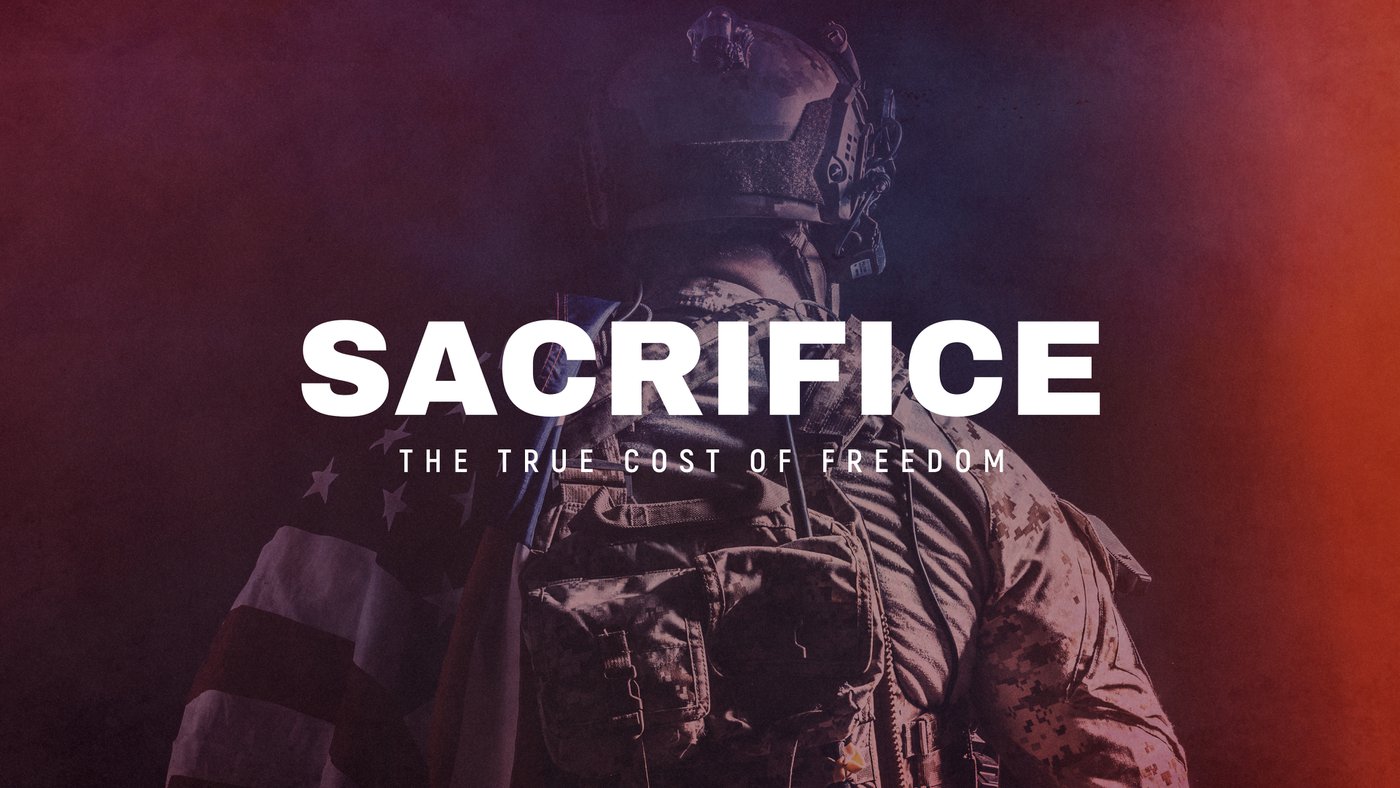 Sacrifice - The True Cost Of Sacrifice
Summary: When we think of our veteran's, we have a tendency to focus on the fact of a group of men and women who served our country in one of the branches of our military. And while we should indeed honor their service, we must also understand their sacrifice and the good things that their service and their sacrifice brought about for us. In this though, we want to consider the greatest example of sacrifice ever made – Jesus Christ.
Key Scriptures
(Hebrews 9:11): "But Christ being come an high priest of good things to come, by a greater and more perfect tabernacle, not made with hands, that is to say, not of this building."
(Hebrews 9:26): "For then must he often have suffered since the foundation of the world: but now once in the end of the world hath he appeared to put away sin by the sacrifice of himself."
(Hebrews 9:28): "So Christ was once offered to bear the sins of many; and unto them that look for him shall he appear the second time without sin unto salvation."
Introduction
1 Thessalonians 5:9-10 says, "For God hath not appointed us to wrath, but to obtain salvation by our Lord Jesus Christ, Who died for us, that, whether we wake or sleep, we should live together with him."
Hebrews 7:26-27 says, "For such an high priest became us, who is holy, harmless, undefiled, separate from sinners, and made higher than the heavens; Who needeth not daily, as those high priests, to offer up sacrifice, first for his own sins, and then for the people's: for this he did once, when he offered up himself."
Hebrews 10:11-12 says, "And every priest standeth daily ministering and offering oftentimes the same sacrifices, which can never take away sins: but this man, after he had offered one sacrifice for sins for ever, sat down on the right hand of God."
Ephesians 5:2 says, "And walk in love, as Christ also hath loved us, and hath given himself for us an offering and a sacrifice to God for a sweetsmelling savour."
John 20:25, "…Except I shall see in his hands the print of the nails, and put my finger into the print of the nails, and thrust my hand into his side, I will not believe."
John 20:27, "…Reach hither thy finger, and behold my hands; and reach hither thy hand, and thrust it into my side…"
Isaiah 53:4-6 puts it this way, "Surely he hath borne our griefs, and carried our sorrows: yet we did esteem him stricken, smitten of God, and afflicted. But he was wounded for our transgressions, he was bruised for our iniquities: the chastisement of our peace was upon him; and with his stripes we are healed. All we like sheep have gone astray; we have turned every one to his own way; and the LORD hath laid on him the iniquity of us all."
1) The REASON for the sacrifice
Hebrews 9:27 says, "And as it is appointed unto men once to die, but after this the judgment."
Jude 14-15 says, "And Enoch also, the seventh from Adam, prophesied of these, saying, Behold, the Lord cometh with ten thousands of his saints, to execute judgment upon all, and to convince all that are ungodly among them of all their ungodly deeds which they have ungodly committed, and of all their hard speeches which ungodly sinners have spoken against him."
Romans 14:11-12 says, "For it is written, As I live, saith the Lord, every knee shall bow to me, and every tongue shall confess to God. So then every one of us shall give account of himself to God."
A) There is the judgment of SIN (Took place on the cross)
Romans 6:23 says, "For the wages of sin is death; but the gift of God is eternal life through Jesus Christ our Lord."
1 Peter 3:18 says, "For Christ also hath once suffered for sins, the just for the unjust, that he might bring us to God, being put to death in the flesh, but quickened by the Spirit."
Titus 2:13-14 says, "Looking for that blessed hope, and the glorious appearing of the great God and our Saviour Jesus Christ; Who gave himself for us, that he might redeem us from all iniquity, and purify unto himself a peculiar people, zealous of good works."
Galatians 2:20 says, "I am crucified with Christ: nevertheless I live; yet not I, but Christ liveth in me: and the life which I now live in the flesh I live by the faith of the Son of God, who loved me, and gave himself for me."
Jesus' sayings from the cross:
In Luke 23:34, Jesus says, "…Father, forgive them; for they know not what they do…"
In Mark 15:34, Jesus cries out with a loud voice, "…Eloi, Eloi, lama sabachthani? which is, being interpreted, My God, my God, why hast thou forsaken me?"
In Luke 23:46, again, Jesus cried out with a loud voice and said, "Father, into thy hands I commend my spirit."
In John 19:28, Jesus said, "…I thirst."
In John 19:30, Jesus said, "…It is finished…"
2 Corinthians 5:21 says, "For he hath made him to be sin for us, who knew no sin; that we might be made the righteousness of God in him."
B) There is the judgment of SINNERS (Just prior to eternity)
Revelation 20:11-15 says, "And I saw a great white throne, and him that sat on it, from whose face the earth and the heaven fled away; and there was found no place for them. And I saw the dead, small and great, stand before God; and the books were opened: and another book was opened, which is the book of life: and the dead were judged out of those things which were written in the books, according to their works. And the sea gave up the dead which were in it; and death and hell delivered up the dead which were in them: and they were judged every man according to their works. And death and hell were cast into the lake of fire. This is the second death. And whosoever was not found written in the book of life was cast into the lake of fire."
C) There is the judgment of SAINTS (After the rapture)
D) There is the judgment of STATES (Tribulation)
E) There is the judgment of GOD'S SERVANTS (The nation of Israel – Tribulation)
F) There is the judgment of SATAN and his SERVANTS (Just prior to eternity)
2) The REALITY of the sacrifice
Hebrews 9:28 says, "So Christ was once offered to bear the sins of many…"
Hebrews 10:4-10 says, "For it is not possible that the blood of bulls and of goats should take away sins. Wherefore when he cometh into the world, he saith, Sacrifice and offering thou wouldest not, but a body hast thou prepared me: in burnt offerings and sacrifices for sin thou hast had no pleasure. Then said I, Lo, I come (in the volume of the book it is written of me,) to do thy will, O God. Above when he said, Sacrifice and offering and burnt offerings and offering for sin thou wouldest not, neither hadst pleasure therein; which are offered by the law; then said he, Lo, I come to do thy will, O God. He taketh away the first, that he may establish the second.
By the which will we are sanctified through the offering of the body of Jesus Christ once for all."
Romans 5:8 says, "But God commendeth his love toward us, in that, while we were yet sinners, Christ died for us."
3) The REJOICING because of the sacrifice
Hebrews 9:28 says, "So Christ was once offered to bear the sins of many; and unto them that look for him shall he appear the second time without sin unto salvation."
Hebrews 9:11 says, "But Christ being come an high priest of good things to come…"