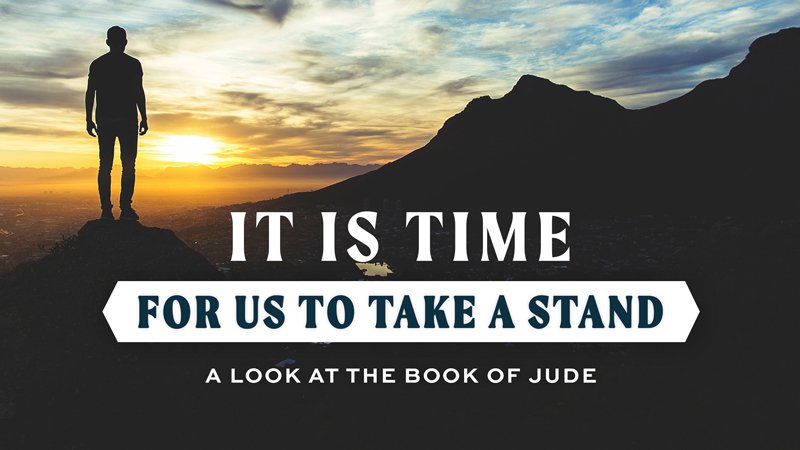 Stand Up - Part 2
Summary: Ever since Christ established it as "…the pillar and ground of truth…", the church has been under attack. When it comes to the church, our enemy – Satan – wants to destroy it. However, since he cannot destroy the church, he does everything that he can to divide it, to disarm it, and to deceive it, but perhaps worse than all of those is the fact that he wants to hijack the church and use it for his own wicked purpose. As the church of today, we – the people of God – have a responsibility to take a stand on truth and boldly declare: "Not on our watch!"
Key Scriptures
(Jude 3): "Beloved, when I gave all diligence to write unto you of the common salvation, it was needful for me to write unto you, and exhort you that ye should earnestly contend for the faith which was once delivered unto the saints."
Review
We began this series by highlighting, in verse 3, the phrase "…ye should earnestly contend for the faith…" In that statement, we found that in STRANGE times and in SHIFTING times, the people of God need to stand on that which is true and stand up for that which is right. That's the emphasis of the book of Jude.
Last week, we began to look at the thought: STAND UP.
We found that in the Christian life, troubles, trials, and temptations are going to come. It isn't a matter of if they will come; it's a matter of when they will come. And, when they do come, we must not SIT DOWN or SIT OUT, we need to STAND UP. In the first seven verses, Jude highlights three ways that we can stand up (we considered the first one).
1) We need to Stand up by SPEAKING up
In these first verses, Jude essentially goes on record to say that there are some things that we should REJOICE IN and there are some things that we are RESPONSIBLE for.
A) Jude spoke up and said that as Christian's we are to rejoice in and about our CHANGE
(1) He was PURCHASED by Jesus
(2) He was PRECIOUS to Jesus
(3) He was PROTECTED by Jesus
(4) He was PASSIONATE about Jesus
(5) He was PICKED by Jesus
Message
John 10:10 says, "…I am come that they might have life, and that they might have it more abundantly."
Ephesians 3:20 says that God "…is able to do exceeding abundantly above all that we ask or think…"
Lamentations 3:22-23, "This I recall to my mind, therefore have I hope. It is of the LORD'S mercies that we are not consumed, because his compassions fail not. They are new every morning: great is thy faithfulness."
John 14:27 says, "Peace I leave with you, my peace I give unto you: not as the world giveth, give I unto you. Let not your heart be troubled, neither let it be afraid."
Philippians 4:6-9 says, "Be careful for nothing; but in every thing by prayer and supplication with thanksgiving let your requests be made known unto God. And the peace of God, which passeth all understanding, shall keep your hearts and minds through Christ Jesus. Finally, brethren, whatsoever things are true, whatsoever things are honest, whatsoever things are just, whatsoever things are pure, whatsoever things are lovely, whatsoever things are of good report; if there be any virtue, and if there be any praise, think on these things. Those things, which ye have both learned, and received, and heard, and seen in me, do: and the God of peace shall be with you."
1 Thessalonians 5:23 says, "And the very God of peace sanctify you wholly; and I pray God your whole spirit and soul and body be preserved blameless unto the coming of our Lord Jesus Christ."
Colossians 3:15 says, "And let the peace of God rule in your hearts…"
Romans 5:7-8 says, "For scarcely for a righteous man will one die: yet peradventure for a good man some would even dare to die. But God commendeth his love toward us, in that, while we were yet sinners, Christ died for us."
1 John 4:19 says, "We love him, because he first loved us."
1 John 4:9-10 says, "In this was manifested the love of God toward us, because that God sent his only begotten Son into the world, that we might live through him. Herein is love, not that we loved God, but that he loved us, and sent his Son to be the propitiation for our sins."
Ephesians 2:4-7 says, "But God, who is rich in mercy, for his great love wherewith he loved us, Even when we were dead in sins, hath quickened us together with Christ, (by grace ye are saved;) And hath raised us up together, and made us sit together in heavenly places in Christ Jesus: That in the ages to come he might shew the exceeding riches of his grace in his kindness toward us through Christ Jesus."
We are to be MERCIFUL,
Matthew 5:7 says, "Blessed are the merciful: for they shall obtain mercy. "
We are to be PEACEFUL,
Romans 12:18 says, "If it be possible, as much as lieth in you, live peaceably with all men."
We are to be LOVING.
1 John 3:16 says, "Hereby perceive we the love of God, because he laid down his life for us: and we ought to lay down our lives for the brethren."
Jude 1:20-23 says, "But ye, beloved, building up yourselves on your most holy faith, praying in the Holy Ghost, Keep yourselves in the love of God, looking for the mercy of our Lord Jesus Christ unto eternal life. And of some have compassion, making a difference: And others save with fear, pulling them out of the fire; hating even the garment spotted by the flesh."
2 Timothy 3:1 says, "This know also, that in the last days perilous times shall come."
2 Timothy 3:10-17 says, "But thou hast fully known my doctrine, manner of life, purpose, faith, longsuffering, charity, patience, Persecutions, afflictions, which came unto me at Antioch, at Iconium, at Lystra; what persecutions I endured: but out of them all the Lord delivered me. Yea, and all that will live godly in Christ Jesus shall suffer persecution. But evil men and seducers shall wax worse and worse, deceiving, and being deceived. But continue thou in the things which thou hast learned and hast been assured of, knowing of whom thou hast learned them; And that from a child thou hast known the holy scriptures, which are able to make thee wise unto salvation through faith which is in Christ Jesus. All scripture is given by inspiration of God, and is profitable for doctrine, for reproof, for correction, for instruction in righteousness: That the man of God may be perfect, throughly furnished unto all good works."